Here is the newest version of the shorts in pinstripe plaid with navy contrasts. I really like this version best of all so far (though still love the corduroy!)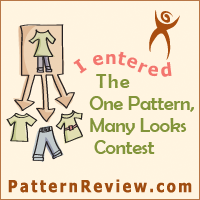 Well, I'm only entering one of the patterns in the contest, but made a second version of another pattern I had just made up as well. This is really unusual for me, I tend to make a pattern once, then move on.
It is fun to find TnT's!
The shorts (
Simplicity 1887
) are what I'm entering into the contest, and I plan to make them once more before the contest is over. We'll just see how that goes. I have 2 versions so far. The first (wearable muslin in upholstery fabric) turned out on the large side, but still wearable. The second version, the brown corduroy with the upholstery fabric as accent turned out a perfect fit! Not baggy at all like the first pair. I learned a lot about crotch depth and size making these, which should come in handy in future pants making endeavors.
The corduroy was such a small remnant, I really had to squeeze out the front, back, and front waistband pattern pieces. I still hit a damaged spot that I put a little patch on (turned out cute). Still, it gave me opportunity to be creative in how to fill in the missing piece pattern gaps!
After I started on the brown corduroy shorts, I realized I didn't really have any tops that would go with it. You have no idea the sad state of my summer wardrobe, though I am working on that! :) So I decided I could whip up a matching top in no time using
McCall's 6078
. I had just made a summer dress from this pattern, and I knew it took very little fabric, and was very quick to make.
My Great aunt has recently given me a TON of fabric, so it was fun to go through my (new to me) stash and find something suitable. I found this cream colored slightly sheer, very finely ribbed knit. It was a good color match for the shorts, and I thought would look good with the drape neck, and be a cute sweater-tank top. :) Also, it will match MANY things as I sew along, so just a great wardrobe builder. Also, bonus that the fit is so good,and it is SO comfy!
Quick side note:, I fixed the gawdy too-short summer dress from the same pattern by using the center remnant to create a ruffle. Here are the old- (too short) version and the new fixed version with the ruffle. I LOVE the ruffle, I totally want to wear this dress now, instead of hiding it in the closet. The longer length is a HUGE improvement, don't you think?!
So, here comes summer, and I'm really ready! I feel my sewing mojo returning. I have a lots of ideas (and now quite a good amount of fabric to use!), and am very excited to play around with them!