Happy 10th Anniversary PR, and all the wonderful members who have helped make it such a wonderful site.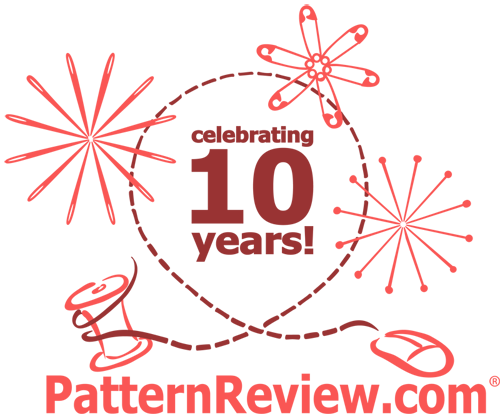 After missing the chance to get up to Seattle for PR day, my family took me out to Fabric Depot in Portland. That place is amazingly huge! It really is the largest fabric store int he nation, with almost 1.5 acres of floor space! It was great fun to spend a couple of hours checking out all the fashion fabrics and sale items (because at heart I'm always a bargain shopper).
I had a list of patterns I was shopping for fabric for, mostly I wanted knits. So here is what I ended up with:
The white print on the left (not a great pic, but it has the same dusky blue in it as the solid above it) is a Moda 1930's reproduction. The soft blue is a drapy poly blend.
I plan to use these 2 to make this vintage jeans top, with the white as the bodice, and the blue for the sleeves and skirt. I think I want to use the pretty butterfly sleeves, though, I tend to dislike sleeve bands on my biceps.
I got a little over 3 yards of the maroon, it is a 2 way knit, pretty heavy with a nice soft hand. I hope to make the tie front cardigan from
McCall's 6408
. With the remainder, I am pretty sure I can squeeze out a basic long sleeved T, or perhaps a Jalie Sweatheart top.
That pretty red and gold ombre that gradiates from lilac to wine is also a knit, about 20%, and was so pretty I couldn't pass it up. I want to make myself a holiday top, so I'm going to make the square neck tunic from
Simplicity 2852
. I have a black turtleneck that will go perfectly under it.
Last in this pic but certainly not least is a pretty green sheer knit with floral emroidery. I got the crochet lace to the far right to edge it for this vintage Simplicity 6971 cardigan, view 2 (but without the clasp). There was 2-1/4 yards on the bolt, so I got the whole piece. I am hoping there might be enough to make a tank as well, but if not, I'm sure I can find a use for that remnant someday. :)
I also got a couple of character prints, the Dinosaur Train print is going to be a button front shirt for Liz. It is her favorite cartoon. The Spongebob print is actually for my husband's eldest brother (who is 60-something), but LOVES Spongebob. I am just making him a fun zipper pouch with extra pockets.
I also picked up a thread spool rack, something I've wanted for ages! It really helps organize the sewing area, I love it. There are a few nearly empty spools on here, so there is room for a few new ones if I need them.
I also wanted to share my new shears! Ok, I didn't buy these today, they were actually a birthday gift from James, along with the sewing machine. Isn't he great!? These are GREAT shears, 1000 times better than my old cheapo things. I love feeling like I'm actually getting good tools for doing all this, now. Oh, I got a very nice glue gun, too, but I don't think we need pics of that, lol.
Alright, back to the fabric and shopping day!
Next I had to stop at Jo-anns, since I had 2 really great coupons. I got the fleece on the left for part of a mouse puppet I plan to make for Liz, and perhaps another stuffie as well. The snowflake sweater knit in the middle was my big buy there (50% off, 2-1/2 yards), it's a wonderful cotton/poly mix. I plan to make a pullover sweater for James, and a matching one for Liz.
The red on the right is a true jersey knit (at 60%off!) which I've never sewn with before. I want to make Liz and myself both long sleeved tops for winter.
Now, after I was done shopping, my father wanted me to come over and visit my great aunt and uncle. I haven't seen them since I was probably 20 (over 15 years), but they were very excited to have company. My great aunt is 92, and my great uncle is 90, but they were both sharp as tacks and completely physically active. They are both very into all sorts of crafting, she actually used to teach sewing, so she gave me an old book she taught from for sewing knits. It's really great, actually! My great aunt also wanted to share some of her fabric stash with me.
From left to right: About 3 yards of pink fleece, the blue I am not sure, a cotton challis?, yellow floral jersey knit, the autumn print is poly or rayon and very drapey, then 2 beige sweater knits, one kind of knobbly feeling, and one striped (good for James!), then a sky blue sport knit, and a dark pink....I don't know what! It is pretty heavy, like pantweight, but very drapey. A really great grab bag she shared with me!
Overall it was a very successful day. I almost doubled my fabric stash in a single day! Well, if you don't count the old sheets in there, lol. I now have enough projects lined up to last me until next summer at least.
I hope everyone else had a fun and productive PR day, weather you were shopping with a group, doing fittings, or home sewing, or just being with family.