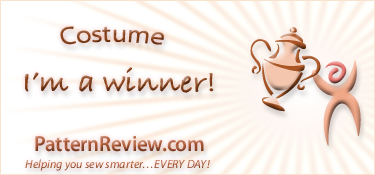 Hurray, I actually won a contest!
You may or may not know, I just love entering PR contests. They are fun, great inspiration, and mostly great company (like a sew along with a chance of a prize). But I've never won first place before. It is a really great feeling. :D
Thanks to everyone who voted for me, or for
Liz as Tinker Bell
, that is.
I received a $100 gift certificate to
Patterns From the Past
, and that's quite a lot of money to spend on vintage patterns!
I spent hours and hours picking out patterns, changing my mind numerous times, and it was all so much fun! I've only ever sewn one vintage pattern (some children's pants), and I'm very much looking forward to trying out some more interesting ones.
I'll be getting my first ever Burda patterns (both vests...hmmm), and also my very first ever Vogue pattern.
When will I ever have a chance to make or wear this Vogue evening gown you ask? well, SOMEday (my 20th wedding anniversary??), I am sure I will, and this gown looks timeless.
If you'd like to see more (or all) of the patterns I picked out, you can check out my
Vintage Pattern Album
.
Again, thanks everyone, for your votes, for your very nice comments, and everything. :D I hope everyone has a very Happy Halloween!!