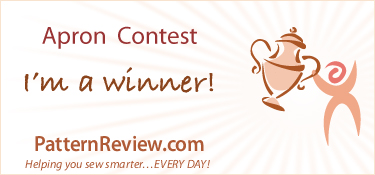 Well, technically, I won the random drawing. But hey, I got a lot of votes, and I had recently made an awesome apron that I feel was a serious winner, so I feel great about it.
I get 5 Kwik Sew patterns, what a great prize! I'm very excited, and also having a hard time narrowing my list down to 5. Kwik Sew is probably my second favorite pattern company ever, so this is just a fabulous prize.
Here is the apron I made a few months ago, that I really feel could have won the votes if I had done it for the contest:
I know, I look super stuck up in that picture. :( Well, it shows the apron nicely. It is
Simplicity 3544 (my Pattern Review here)
, a vintage reprint of 3 1940's and 1950's aprons.
And here is the apron I won the random drawing with:
This is
Simplicity 2319, my Pattern Review
. A really simple full body adjustable apron pattern. I spruced it up a bit with some appliques, ruffles, and contrasting fabrics. I have made this previously in the child size for Liz, and it's a great basic apron pattern.
I'm going to give this blue and red one to my mom for a late Mother's Day gift. I think the fit will be good, and they are colors she likes. She also wants one that is easier to put on than the one I made her last year. :)
So it has been a long time since I've posted anything, but in light of my many recent sewing projects, I thought I should start again.
I've decided to start sharing my sewing experiences, and other things as well. I don't have any followers yet, but maybe as I get better, there will be more things of interest here.
I'll try and post some of my recent projects int he next few days.